Children's Showcase is pleased to present its 36th season featuring exhilarating circus tricks, a winter concert of seasonal favourites, a powerful spirit that inhabits a feast dish and a percussive extravaganza.
Indigo Circus (Alberta)
Sunday October 20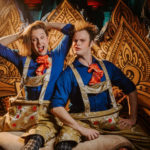 This dynamic duo performs an exhilarating array of circus tricks, balancing acts, staff spinning and crystal ball juggling mixed with some very funny antics.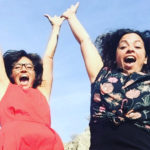 Little Tree: a winter concert (Penticton)
Sunday December 15
A wonderful winter afternoon of musical family fun! Maiya and Mia of Little Tree Music Together will be joined by Tavis Weir and Stefan Bienz to bring you a joyful and interactive show of both new and familiar seasonal favourites from around the world.
Axis Theatre's production of Th'owxiya: The Hungry Feast Dish by
Joseph A. Dandurand (Vancouver)
Sunday February 9
Indigenous storytellers spin a tale from the Kwantlen First Nations Village of Squa'lets, about Th'owxiya, an old and powerful spirit that inhabits a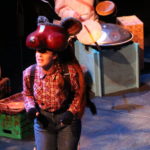 feast dish. Her dish holds beautiful foods from around the world but careful, stealing from her is dangerous business! When Th'owxiya catches a hungry mouse, Kw'atel, stealing a piece of cheese she demands two child spirits be brought for her to eat or else, she will eat Kw'atel's whole family. Desperate to save her family, Kw'atel sets forth on an intense journey gaining knowledge, understanding and forgiveness along the way.
Bring the Noise! with drummer Zac Gauthier (Kelowna)
Sunday March 8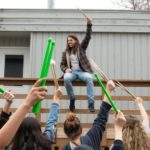 A young boy discovers a world of music right in his very home in this innovative, inspirational, percussive extravaganza.
All performances are on Sundays at 2 pm and take place at the Cleland Theatre in Penticton Single tickets are $12 or season tickets are available for $30 for all four shows (35% discount). Tickets are available at Tumbleweed Gallery, Penticton Arts Council office, Prague Café, Penticton Art Gallery, Oliver Veterinary Hospital, The Beanery Café, Summerland or online at Eventbrite. Tickets also available at the door. For more information go to childrensshowcase.ca.
Ticket information here.
Header Photo: Axis Theatre's production of Th'owxiya: The Hungry Feast Dish by Joseph A. Dandurand