Children's Showcase is pleased to present its 35th season featuring one of the world's best hoop dancers, a goofy retelling of a classic Christmas poem, a jellyfish boogaloo and an aha moment of the heart.
Safire Dance (Alberta)

Sunday October 28 – Cleland Theatre, Penticton
An award-winning hoop dancer, Safire is considered one of the best in the world. Offering a unique visual experience, Safire's dance chops include multi-hooping, contemporary hoop dance, flag spinning, contact juggling and stilt walking.
Twas The Night Before Christmas by DuffleBag Theatre (Ontario)
Sunday November 25 – Centre Stage Theatre, Summerland
Goofy antics and witty story twists abound in a hilarious reworking of the beloved classic poem by the "nearly world-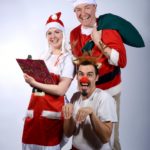 famous" DuffleBag Theatre. Everyone can't wait for Santa's arrival on Christmas Eve, but somewhere along the line, the jolly old elf seems to have mislaid his sack of presents. What's worse is that Old Man Winter is determined to stop him! Will Christmas have to be cancelled? Not if Mrs. Claus and the reindeer can help! Come save the day with these talented inter-active storytellers.   PLEASE NOTE: This performance takes place at Centre Stage Theatre, Summerland.

Oot n Oots (Kelowna)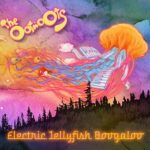 Sunday February 3 – Cleland Theatre, Penticton
Performing music from their debut record Electric Jellyfish Boogaloo, Oot n Oots draw on diverse influences from the vast history of rock 'n' roll. They are hailed as a band with chops, soul, and swagger and their songs are wildly imaginative, brimming with humour and inspiration.

Ideas Bobert! by CandyBones Theatre (Vancouver)
Sunday March 3 – Cleland Theatre, Penticton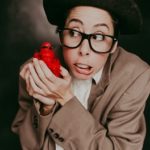 From award-winning creator Candice Roberts comes a clown tour de force of comedy and conundrum. With a vintage silent film styling, shadow puppetry and stop motion animation projections, the world of Ideas Bobert! is rich with magic and creativity. What happens if we deny our deepest dreams and desires? Teetering on the brink of absolute failure, love-sick Bobert discovers his heart to be more than he knew.
All performances are on Sundays at 2 pm and take place at the Cleland Theatre in Penticton except Twas the Night Before Christmas which takes place at Centre Stage in Summerland.
Single tickets are $12 or season tickets are available for $30 for all four shows. Tickets are available at Tumbleweed Gallery, Penticton Arts Council office, Prague Café, Penticton Art Gallery, Oliver Veterinary Hospital, The Beanery Café, Summerland or online at Eventbrite. Tickets also available at the door.
Ticket information here.
Header Photo: Oot n Oots